1
High Net Worth Individuals
Acquiring a company as an owner/operator or to add to your portfolio. Considerations include:
2
Private and Public Companies
Small to Medium sized businesses and Publically traded companies making synergistic acquisitions. Considerations include:
3
Private Investment Groups
Portfolio enhancement through acquisition of targeted vertical markets complimenting owned companies. Considerations include:
the ideal acquisition
Finding the perfect fit is challenging and requires substantial research and legwork.
Most buyers search through business for sale sites, referrals from their legal or accounting firms, or hearsay in their industry. The available companies are typically sparse and not well matched to the buyers objectives. Often the best opportunities are not actively for sale. Engaging a M&A Advisor to conduct a strategic search for companies that match your acquisition goals gives you the best shot at making the ideal acquisition.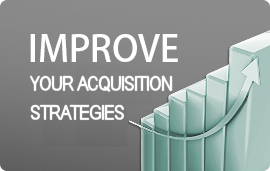 strategic business search
BIZ-NET will conduct an initial Buyer Qualification Interview to determine your business acquisition criteria and whether we believe we can meet your objectives in the current market. If we are confident that we can be successful finding your target company we will enter into a Proactive Search Agreement and assign a M&A Advisor to your account. BIZ-NET will represent you and negotiate on your behalf, guiding you through the acquisition process.
finding suitable acquisition targets
step 1

Business for Sale Sites, M&A Networks, Professional Affiliations

BIZ-NET works to identify all of the companies that are currently 'On the Market' that might match your acquisition abjectives. We accomplish this by reviewing companies we represent, surveying business broker associations, searching appropriate websites, and contacting our extensive, informal network of intermediaries, financial, legal and professional advisors.
step 2

Uncovering the Hidden Acquisition Opportunities

In contrast to sourcing 'For Sale' opportunities, we use different search techniques to identify all companies that meet your acquisition objectives and then contact the owners directly to assess their interest in selling. Our experience suggests that excellent companies are often made available for purchase to the right buyer candidate.