Plan. Execute
Getting top value for your company doesn't just happen by itself. It requires market research, in-depth analysis, production of an accurate and comprehensive marketing document.
Once your company is prepared for sale then suitable acquirors are confidentially exposed to your business. By marketing to strategic buyer candidates significantly higher value is realized.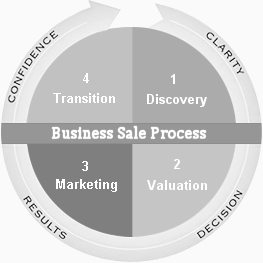 Price and deal points are negotiated to acheive your sale objectives. Legal and financial advisors are kept in the loop to protect you in the transaction and after sale considerations.
How we maximize your sale value
Selling your business doesn't have to be complicated. Our business advisors are experts in sale of Internet related companies and assets. While acheiving top value for your business requires merger knowledge, deal expertise, and serious negotiating . . . it also simply requires a lot of time and hard work! With over 30 years brokering transactions and Internet specific deals since the late 90's, our deal makers know the effort required and have the requisite assets to get your deal done and accomplish your objectives.

Here are the key components that go into every successful business sale transaction:

Evaluate
your business
Accurate valuation is key to getting your business sold. Price it too high and you'll alienate quality buyers . . . too low and you'll leave money on the table.

Package
your business
Critical to maximizing value is not only educating the potential purchaser on your company's history but also on its projected growth and future potential.

Market
your business
Some buyers benefit more than others through acquisition of your company. We market to the ones who benefit the most because they will pay the most.

Negotiate
the sale
Our expert M&A Advisors will insure your objectives will be maximized throughout the full range of negotiations involved in consummating a sale.

Due Diligence
review
Passing the review of the buyer and their counsel requires a thorough packaging of information salient to the business and its operations.

Transfer
Documents
Non-Disclosure Agreement, Letter of Intent, Purchase Agreement, Employment Agreement, Covenant Not To Compete are typical to most transactions.

Close
the transaction
This is where many deals can fall apart! Our M&A Advisors stay on top of your deal to assure that any last minute surprises are resolved.

Transition
ownership
A smooth transfer of ownership takes place with careful transition planning for management, finances, real estate, accounts payable and receivable, and more.